When:
April 23, 2018 @ 5:00 pm – 6:00 pm
2018-04-23T17:00:00-04:00
2018-04-23T18:00:00-04:00
Where:
Sandford Fleming Building, Room 1101
10 King's College Rd
Toronto, ON M5S 3G8
Canada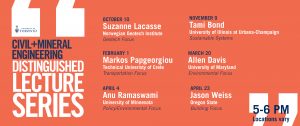 CivMin Distinguished Lecture Series | Deicing Salt Damage to Concrete Pavements and its Mitigation
Jason Weiss
Head of the School of Civil and Construction Engineering
Edwards Distinguished Chair in Engineering
Oregon State University
Abstract
Concrete pavements in cold regions in the United States have shown damage at joints. This damage has been attributed in part to a reaction between calcium hydroxide in the concrete and chloride-based deicing salts. This reaction leads to the formation of a phase known as calcium oxychloride. This study presents an overview of work from the last decade that has been performed to better understand this reaction (specifically, with calcium chloride) and to propose strategies to mitigate the damage that develops. Thermogravimetric analysis, volume change measurements, and low-temperature differential scanning calorimetry are used to quantify the amount of calcium oxychloride which forms, and the damage that occurs in pastes exposed to CaCl2 solutions. It is shown that the use of supplementary cementitious materials reduces the calcium oxychloride content and a reduction in the extent of the damage. Thermodynamic modeling is used to better explain the influence of various supplementary cementitious materials on the cement paste. Although this paper deals with pastes, the extension of such studies to mortars and concrete are described. Strategies to mitigate the damage are outlined. This work will be placed into context with classic freeze-thaw damage.  Finally, a short discussion of the interactions between other chloride-based salts and concrete is presented.
Bio
Jason Weiss is the Miles Lowell and Margaret Watt Edwards Distinguished Chair in Engineering and the Director of the Kiewit Center for Infrastructure and Transportation Research. He is actively involved in research on cement and concrete materials specifically focused on early age property development, cracking, transport in concrete, and concrete durability. Dr. Weiss is a member of the American Concrete Institute (Past Chair of ACI 123), American Society of Civil Engineers, RILEM (Bureau Member, Past TAC member, TC CCD chair), Transportation Research Board (AFN 040 Chair), and American Society for Testing and Materials. He is the editor of the American Concrete Institute Materials Journal and the ASTM journal Advances in Civil Engineering Materials, and is past editor in chief of the RILEM Materials and Structures Journal.  Dr. Weiss has authored over 390 publications with over 190 peer-reviewed journal articles. He is a recipient of the NSF Career Award, the RILEM L'Hermite Medal, the ACI W. P. Moore, ACI Young Member, ACI Philleo Award and ACI Wason Awards, the ESCSI Erskine Award, the TRB Burgraff and Mather Awards for outstanding research and publications, and the ASCE Huber Award. He is a fellow of ACI and is also the recipient of the Wansik, Munson, Buck, and Burke awards for outstanding teaching/advising in the school of civil engineering, has received the Potter award for outstanding teaching in the college of engineering, has received the university Murphy award for undergraduate teaching, and has been inducted into the Purdue Teaching Academy.