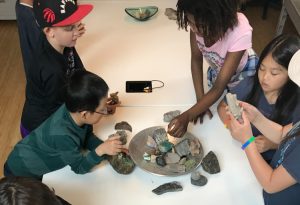 As the students of Leslieville P.S. eagerly look forward to summer, they took some time on their last week before the summer break to visit the Lassonde Institute of Mining.
As a culmination to their rock and minerals unit, the grade four class came to learn about how mining affects everyone's everyday lives, about how new technologies are being used in mining and about what kinds of minerals are mined in Canada.
Highlights of their visit included seeing how drones are used in mining and using a point load tester to determine the strength of various rock samples. With a selection of minerals on hand, the class could already identify pyrite, quartz, amethyst and graphite!
Thank you to the Leslieville Grade 4 class for your visit!
---
Thank you to graduate students Greg Gambino, Thomas Bamford and Johnson Ha sharing your knowledge with the Leslieville class.