This spring two CivE students travelled to Roatán, Honduras as part of the 2016 Student Passport Initiative, to improve water access in a community of 600. The community previously spent upwards of $250 per month to operate a diesel-powered water pump. After students installed a 3kW solar array, which operates the pump continuously, the quality of life for the community's residents vastly improved.
"It's good for students to actually pick up a tool and apply what they learned to a full-scale project," says Dmitri Naoumov (CivE 1T5 + PEY) member of the U of T student chapter of the Canadian Electrical Contractors Association (CECA). "The build was large enough that we needed to work together as a team, but small enough to be manageable and finished during the trip."
The members of CECA student chapter were invited on the trip by the Penn State NECA (North America Electrical Contractors Association) student chapter to encourage CECA's participation in future initiatives. Naoumov and his peers thought they would prefer to work on projects helping remote Canadian communities.
"It is important to us that the project has impact, so we discussed working with geoexchange technology in Indigenous communities in northern Canada," Naoumov says, noting solar arrays would be impractical during a Canadian winter. "Geoexchange systems in the Yukon, using the heat stored in the earth's soil, might be a possible student project."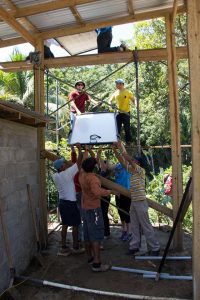 "By participating, students can really get their minds around the challenges or problems they might be asked to solve in professional careers," says Prof. Brenda McCabe, CECA student chapter faculty advisor. "All of the design and research work is done by the students and I am proud of how much they have done since founding the chapter in 2014."
The participation in the 2016 Student Passport Initiative would not have been possible without industry sponsors Alltrade Industrial Contractors, Fitzpatrick Electrical and Fusion Energie.
In addition to the Student Passport Initiative, CECA student members compete annually in the Green Energy Challenge. Demonstrating their ability to analyze particular electrical construction management problems, they create comprehensive plans and budgets for appropriate retrofitting. The 2015 team designed a solar photovoltaic microgrid system and back-up power plan for Good Shepherd Ministries, a homeless shelter in Toronto. For the 2016 entry, students are planning a lighting retrofit, daylight analysis and solar array for the University of Toronto Schools.
The Canadian Electrical Contractors Association brings together electrical contractors across the country to share experience and advice. The U of T chapter extension is the first of its kind in Canada. Their goal is to bridge the gap between contracting and engineering and engage students with first-hand, applied experience. In addition to competitions, the group hosts networking and social events and connects students with scholarship and job opportunities.